Specifications CH-100B Wifi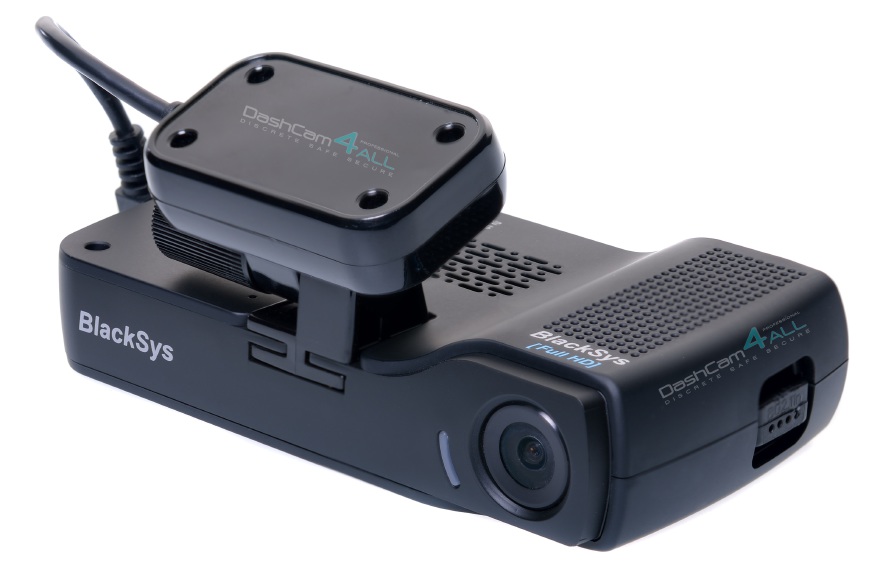 Full HD resolution (1920x1080p) for the clearest recordings
With a dashboardcamera the brightness of the lens is just as important as the resolution and the number of pixels. With the high-sensitive and low-noise Sony CMOS Sensor with 2.1 Megapixel, provides bright and clear Full HD images. Even in dark conditions.
WiFi
The built-in WiFi makes it possible to wireless connect with your smartphone with the free BlackSys app for iOS and Android. You can stream live video and watch recorded videos with your smartphone or tablet.

HD rear camera / back up camera
The HD rear camera records everything what is happening behind your car. You can now safely reverse and plate numbers are clearly recorded in cases of tailgating.
GPS Dual Band (GPS + Glonass)
The highly accurate Dual Band GPS antenna records the route and speed. On your computer, you can track your progress, speed (in kph or mph) and locations back with Google Maps via the free BlackSys Viewer (For both for Windows and Mac).
Safely parked with the Parking Mode
When this option is activated, the BlackSys CH-100B keeps recording even when the the engine is turned off (because normally the BlackSys CH-100B starts recording as soon as you start the engine and the BlackSys CH-100B stops recording as soon as the key out is pulled out of the socket). So everything that happens around your parked car is recorded, even when you are not inside or near your car. The BlackSys CH-100B has an advanced Parking Mode which is equipped with a Motion Detection Sensor. This sensor registers every move in front of the camera (front and rear!) at a distance up to 6 meters. The special feature here is, that the first 10 seconds before a movement (or shock, if someone bumps into your parked car) and 20 seconds after a movement or shock are stored in a special file on the memory card. These files are not automatically overwritten when the memory gets full, but can only be erased manually. With some car brands the power supply to the 12Volt connection stops when the engine is turned off. In those cases the Parking Mode works only if you have the DC Fuse Power Cable installed.
Low Voltage Cutt Of / Battery Discharge Prevention
This feature ensures that your car battery does not run out of power while using the Parking Mode. The voltage can be set to 11.8V / 12.0V / 12.2V / 12.4V. The voltage of the car battery is show Real Time on your smartphone. This function only works when the Parking Mode is enabled.
Emergency Button
If any unpleasant or interesting situation occurs, just press the Emergency Button. And the 10 seconds before and after the incident the 20 seconds automatically will be saved in a separate file on the memory card. These recordings are not automatically overwritten when the memory card gets full.
Main features of the BlackSys CH-100B WiFi + HD rear camera + GPS
Wi-Fi, free app for Android and iOS

Full HD front camera with 2.1M Sony CMOS Sensor
HD rear camera / back up camera

GPS functions; routes and speed via Google Maps
Motion Detection in the Parking Mode

Technical specifications of the CH-100B WiFi
• MPU Texas Instruments
• Wifi 802.11 b/g/n (2.4GHz)
• 2.1M pixels, Sony CMOS Sensor / Lens: 1/3"
• Low Voltage Cut-off System
• High Temperature Cut-off System
• Resolution front camera 1920x1080 (Full HD) 30fps
• Resolution rear camera 1280x720 (HD) 30fps
• Wide angle front 135°
• Wide angle rear 130°
• GPS SiRF 5 Dual Band (GPS + Glonass)
• G-sensor, 3-axle shock detection for event recording
• Video format H.264 (AVI) / Codec profile: HIP (High Profile)
• Bitrate front camera 6Mbps, 30fps
• Bitrate rear camera 4Mbps, 30fps
• Rear camera is supplied with a 6 meter cable
• Fragments per 3 or 5 minutes
• Loudspeaker embedded, volume adjustable
• Microphone embedded, on/off
• Voice Guide, voice assistent in English, volume adjustable
• Parking Mode, automatically activated, on/off, time setting adjustable
• Motion Detection in Parking Modearkeermodus, records already 10 seconds before a movement or shock!
• Event Recording, in case of sudden movements (impact, emergency break, deviation) the video clip will be automatically saved in a separate file and will not be automatically deleted when the memory gets full
• Emercency Button, just 1 push on this button and the 10 seconds before and the 20 seconds after the incident will be saved in a separate file and will not be automatically deleted when the memory gets full
• GPS functions; route and speed via Google Maps
• Time and date stamp
• Temperature Sensor
• Current DC 12V~24V
• Power use 340mA (13.4V) (Wifi off)
• Operational temperature -20°C ~ +70°C
• Storage temperature -30°C ~ +80°C
• Dimensions front camera 5.8 x 10 x 3.4 cm, 78 gr
• Dimensions rear camera 5 x 2.6 x 3.1 cm, 25 gr
• Memory external, microSD memorycard (8GB~128GB) (memory card not included)
• Software developed by BlackSys to view footage on PC (Android and iOS)
• 5 cable holders