The phone for calling
Are you one of those folks who say that everything has its own use? Yes, you can surf the internet and read emails on smartphones, but those functions are more comfortable on your PC. No matter how advanced touch keypads are nowadays, they can't beat a physical keypad. When it comes to making a phone call, there's no contest. The convenience of using a regular phone with real buttons that fits comfortably in your palm beats out using a smartphone every time.
When other manufacturers go "smart," we still develop and produce mobile phones with buttons, not only for people who like things simple and without all the bells and whistles, but also to fulfill the needs of working professionals. Smartphones are cool, but they are useless in humid or cold environments. It's impossible to operate a touchscreen with work gloves. That's why working professionals rely on the proven practicality of our products.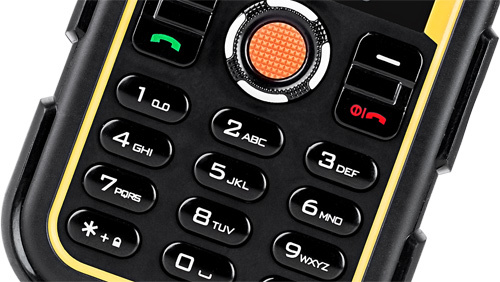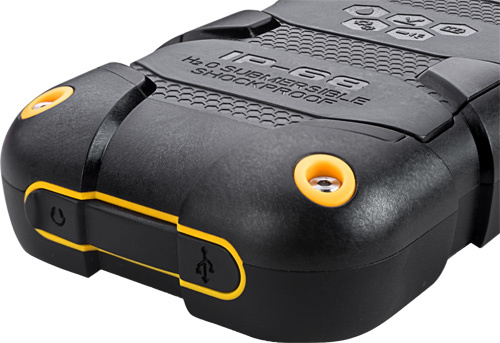 IP68
Getnord Walrus housing is made using special Double Injection Molding technology. Hard plastic and shock-protecting rubber are formed for durability by high temperature fusion. USA Military standard MIL-STD-810G requires that we submit our devices to a drop test at least 26 times at various angles onto a hard surface. In our testing lab, we drop the phone from 1.8 meters!
Special technologies – such as fully hermetical housing, sealing, waterproof speakers and, the most important factor, waterproof testing of every Getnord Walrus phone on production lines – ensures IP68 Ingress protection class. In layman's terms, any other phone in the world would be fried if you drop it into the watery depths. Not the Getnord Walrus!
---
Lone worker SOS

Risk is always a factor when working outside in harsh environments. The phone is, first and foremost, the most important device to have on hand if and when you need to call for help. Every second counts in the event of an emergency. In light of this, we've created a special SOS calling system for lone workers.

If a situation arises where help is needed now or sooner, your phone's screen can be wet, dusty or shattered to pieces. The red SOS button in the center of your phone is all you need. No matter what is on your screen, whether your phone is locked or not, just push SOS and Getnord Walrus will start automatically dialing three programmable emergency numbers, while simultaneously sending these numbers an SMS.
---
The real torch
Your phone is always with you, and the integrated torch light is powerful. Those small LEDs only glitter but don't illuminate, you say? You have to navigate through the phone menu to switch on the torch? Not with Getnord Walrus. We have integrated the real torch with a reflector which is capable of leading your way, lighting up 10 meters in front of you. There's no need to open the menu – Getnord Walrus has designated a button specifically for the torch. And it works in locked mode too.

---
Pedometer

Healthy body, healthy mind. The easiest way to burn calories and lose weight is running or walking. Now you can actually see your progress! Getnord Walrus' integrated pedometer is a simple and effective tool to measure the number of steps walked. Attach the phone to your belt with the kit's special belt clip and start moving!
---
Screen without scratches
Many phone manufacturers praise their "Gorillas" to the stars for their tough exteriors, but have you ever seen the screen of a phone that's more than a day old without a single scratch? A design for scratchproof screens has yet to be invented but, knowing the daily toil our phones must survive, we had to find a solution. And we did. On top of outsourcing our phone's screen manufacturing to top-notch companies, like Corning Gorilla, we secure an additional tempered glass protector overtop. The specially Japan-made Asahi glass screen protectors used on our Getnord Walrus phones boast 9H hardness, according to the Mohs scale (for reference, the highest level is H10 – the hardness of a diamond). Moreover, the protector is crystal clear and practically invisible.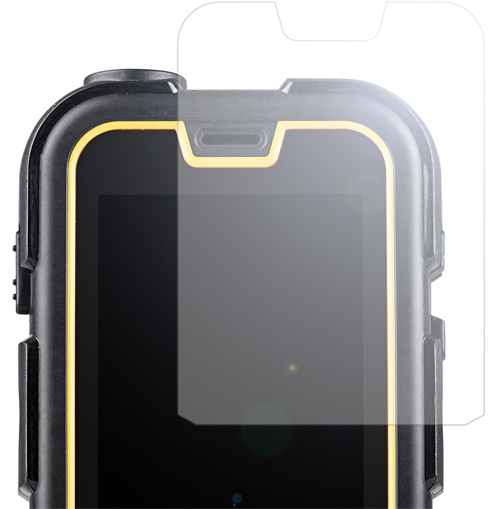 If you somehow manage to scratch Asahi glass (which is next to impossible, so congratulations are in order if you do), you can change the protector by simply removing it and applying a new one. Inside the original Getnord Screen Protector Kit, you will find all the necessary tools and instructions to switch out your Asahi tempered glass. Before you know it, your screen will be like new again.